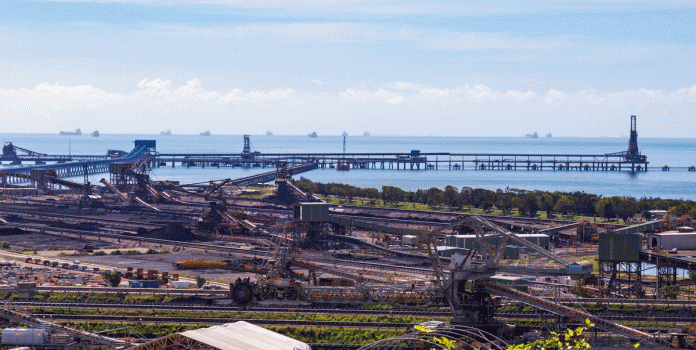 Should I buy an investment property in Gladstone?  Like so many of Queensland's regional hubs, Gladstone has been riding the wave of market fluctuations in the 2020s.  Now, in 2023, is Gladstone a good choice for investment property purchases?
It's been a rough few years for Gladstone and I understand that the ups and downs of the Gladstone economy has made things tough.  With the upcoming investment in the city and the undeniable convenience of its ports, Gladstone is a survivor.  The city itself is humming with a rich cultural life and some of the best restaurants I've visited.  It's got a lot more going for it than appears on paper.
The Pros of investment properties in Gladstone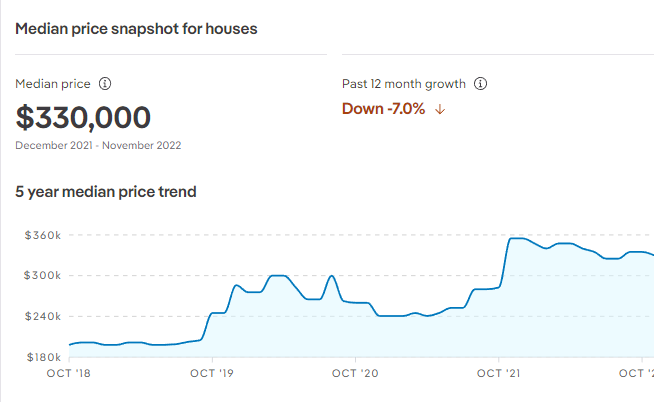 Source: RP Data
Relatively cheap properties make it a good place to get started on the ladder
Like many of the regions, the peak price has now hit and property prices are on a slow decline, making it a good time to start a property hunt
Not so long ago, 80% of properties in Gladstone were selling at a loss.  With overstretched borrowers facing growing interest rates, Gladstone is an excellent place for bargain hunters.
Gladstone is earmarked for massive investment in infrastructure and industry, meaning the jobs which once dried up, will be returning and then some in the coming years.
While the fossil fuel industry has all but crippled the local economy, Gladstone will soon become Australia's HQ for hydrogen production.  Not only will this revive the local economy but will mean a great reduction in "ugly" fossil fuel infrastructure, and a potential release of premium land for tourism purposes.
Gladstone's famous "300 Days of Sunshine" and nearby lovely beaches, make it a perfect lifestyle choice for young families seeking affordable rentals.
Rental return rates, although currently low, enjoyed a sharp increase during the 2022 fluctuations and continue to rise in 2023.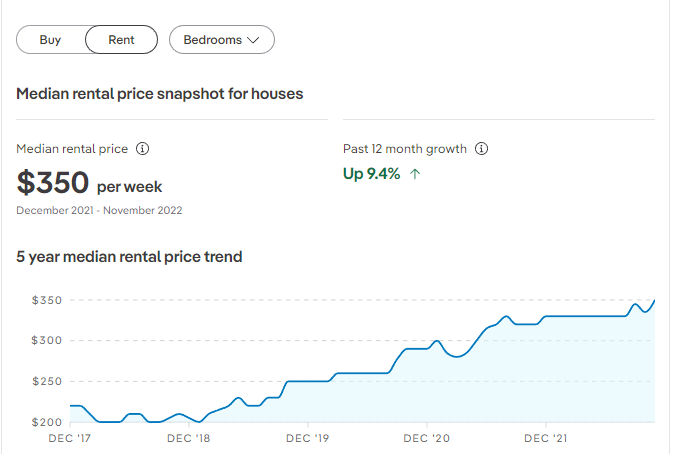 Source:  RP Data
The Cons of investment properties in Gladstone
The natural resource industry collapse in Gladstone caused a bottoming out of the market, with properties falling well below their original purchase price.  Gladstone is considered a high-risk investment location which makes lenders VERY uneasy.
Currently, the rental return rate in Gladstone hovers around 5% which isn't awesome.
Gladstone is prone to flooding and the location of your property will determine your level of risk.
Advice from the Queensland Property Experts
With interest rates in flux and the property market crashing, buying an investment property in Gladstone makes sense to investors.  The relatively low "buy in rate" provides some security.  The re-vitalisation of Gladstone's industry, however, will take at least a decade to come to fruition, so you should speak with a finance professional before you drop money on an investment property in Gladstone.
While we hope that La Nina has run her course for the time being, Gladstone presents serious risks in terms of flood damage.  Before you settle on an investment property in the Gladstone region, check the flood maps and do an insurance estimation.  By estimating the cost of your potential insurance, you'll know roughly how many flood claims have been made on your new invstment property.
Resource locations may present a glut of "worker housing" in the form of small villages built by mining companies for FIFO staff.  Mining companies aren't known for splurging on quality builds.  Before you settle on a Gladstone investment property, have a thorough inspection done as you may be buying a property built to shoddy standards.  A good building and pest inspector can also warn you of any subsidence or flood risk associated with the property.  Where you buy in Gladstone will make all the difference.
While buying in a "neglected market" means scooping up renovators' dreams, consider that while the market is in such flux, buying an investment property that has "good bones" that can be renovated cheaply, for now, will offer you the best long-term ROI.  Don't buy a property that needs a whole new kitchen and bathroom just to make it livable.  Consider choosing an investment property that can be rapidly improved with a lick of paint and some nice landscaping.  That is the best way to renovate for rental return in a high-risk market.
So, should I buy an investment property in Gladstone?
Not without first speaking to your financial advisor.  Buying an investment property anywhere right now is high risk.  Your bank may not want a bar of it.  You could face unprecedented interest rate hikes.  Infrastructure spending in Gladstone could fall through.  The future is so uncertain making Gladstone a high-risk investment.  High risk, with a relatively low buy-in, that could result in massive capital growth, or long-term pain.  Speak to your accountant first.