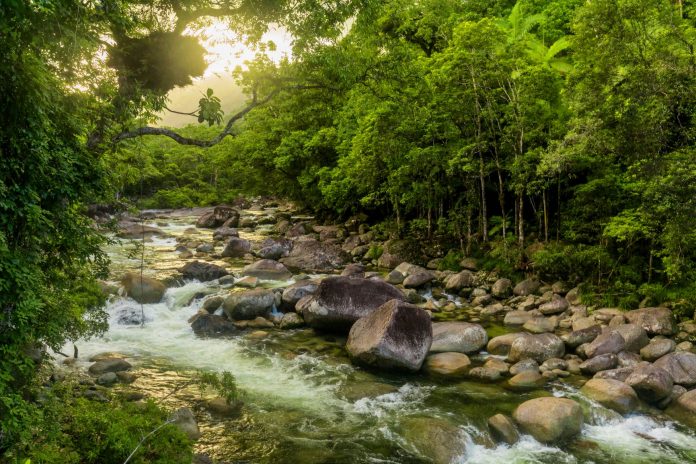 My biggest tip when taking road trips with kids? Take a deep breath, turn up the music and enjoy the journey. Things rarely go exactly to plan.
The first big question you need to ask yourself is what kind of traveller are you and your kids? Are you a "planner" or a "wing-it" type? Do you like to take in all the sights or are you very much focussed on reaching your final destination? Do you tire easily? Importantly, do your kids need lots of breaks for feeding, changing, exercising or do they get carsick? I have found most road trip planning centres around the needs of children and pets. Having realistic expectations about how far you may travel in a day can save a lot of heartache.
My kids and I have been doing the Queensland to South Australia (5,000km round trip) one or two times a year to see the extended family, since they were breastfeeding bubs – complete with the family dog. Lately our travels have been restricted to Queensland…. From my experience, no matter what type of traveller you are, when you have kids along you have to be prepared for the unexpected – like unusually high demand for accommodation, road closures due to flooding or fire, road traffic accidents ahead or unfortunate encounters with wildlife like kangaroos and emus, just to name a few.
Getting prepared for travelling with kids
Car Safety First
Make sure you have your car serviced before you leave. You do not want to get caught in a remote location or, worse, be involved in a car accident because of an avoidable mechanical issue.
Get a good night's sleep. Don't drive tired. Your kids and other road users are depending on you to see them safely home. If you need to stop, just stop in the next safest spot and tell the kids to pretend you are still driving. If you can make the next town, the kids will love getting out of the car for a play anyway while you rest. If stretching the legs and having a break doesn't refresh you, seriously consider stopping early for the day. Find the cheapest motel you can if need be.
Road Trip Snacks
I almost class this as entertainment too! I pack a snack bag and water bottle for each of the kids to work their way through. The novelty soon wears off and, as they aren't moving about much, I find they aren't really that hungry anyway but I like to have a variety of healthy nibbles and a few nice treats. This is especially useful if you get stuck on the roadside for a couple of hours due to a traffic accident ahead.
If you are crossing borders (ha ha ha) be aware that you may need to discard fruit and plant items, so don't go overboard as you may end up attempting to scoff down six apples, half a watermelon and a bunch of grapes in 100km all by yourself (this leads to, well, urgent pitstops – don't do it!).
In-Car Entertainment
The snack bag discovery takes up the first 15 mins, then what? Eye-spy, sing-alongs and number plate cricket will only get you so far.
In my car each child gets a bag that contains their snack and their entertainment (usually slung around the headrest of the seat in front or tucked in next to the door) and it all goes back in that bag at each stop. Depending on age, we have at different times packed picture and reading books, colouring books (the Crayola invisible texta type were fantastic for toddler years 2-4 and did not mark the car), baby dolls, matchbox cars, whatever the favourite toy was at the time.
What did we do before mobile phones, in car DVD players, iPads and android tablets? Best. Inventions. Ever. They are compact, portable and there is such a variety of educational apps available plus puzzles, word games, number games, books and games that are not so educational but fun nonetheless.
Older kids can read the news to you. A road trip provides an excellent opportunity to have some really in depth discussions that you may not usually have time for. As they grow, get the kids involved with the trip by having them research the next town and discover what is interesting about that area and what activities are available.
The last word on mobile devices – Headphones are essential and wireless are best. Check that you have enough charging ports in your car. You can never have too many spare charging cables. If you are heading into areas with patchy or no mobile coverage, plan ahead with some apps that do not require mobile reception to run. And pick up an old fashioned newspaper for the kids to read to you.
The Messy Business of Travelling with Kids
Hand sanitiser, a couple of packs of baby wet-wipes, a box of tissues, a roll of toilet paper and a pack of extra large zip lock bags have come in handy every trip. Sticky fingers? Wet wipes. No running water? Wet wipes. No toilet paper in the roadside long drop? Toilet paper, sanitiser and wet wipes (I do NOT recommend these facilities if you can avoid it, they are mostly super GROSS and the kids are often scared they will fall in…so am I to be honest).
On the subject of zip lock bags….. My kids do not get car sick, thank goodness, however, we have had our share of disasters! Food poisoning? Virus? Who knows?! A memorable four hour drive turned into an epic 12 hour stint that used every item of clothing they owned and we ended up arriving at our destination with the kids clothed in their last pair of undies and nothing else! Two hot tips – (1) pack LARGE zip lock bags (they seal in vomit clothes and vomit odour and ewwwww vomit!); and (2) consider PULLING OVER at the next town and just stay there for the night or however long it takes to get over the bug…the lingering smell of vomit in a car is one best avoided at all costs.
Road Trip Queensland Style
Road Trip Rest Breaks with Kids
Plan to stop before you even get out of city limits! Truly! Is it a nervous wee? Marking their territory? I don't know, but someone will need to go well short of the "planned" first stop. Fast food outlets are reliably open and have toilets unlike a lot of your city petrol stations. In any case, use the disabled toilets where available or get accustomed to the idea of sharing a small toilet cubicle with many small children.
Our dog seems to go into suspended animation on trips. The first time we hit the road with the pooch, I stopped constantly trying to get him to "go" and drink etc. This was unnecessary – he is less needy than the kids. Once I am properly on the road I try to space my stops with a view to giving the kids (and the dog) some activity time with morning tea, lunch, afternoon tea etc.
Any town with a fast food outlet (usually featuring a large golden M…) was super helpful when the children were toddlers. I could have a little down time with a hot drink knowing they were mostly safe and trapped in a fenced playground area, there were changing facilities and, as my kids really weren't that interested in the food anyway, it didn't have to be a junk food extravaganza. You won't be served gourmet coffee or food but you know exactly what you are going to get country-wide.
As the kids have grown, our pit stops have been planned around towns that have a nice park/playground. Whilst larger towns might have an information centre with facilities attached like the Toowoomba Information Centre (which has a great little playground and clean facilities), most small country towns will at least have a public toilet. I have found small towns like Aramac tend to look after their facilities regularly and, whilst the age of facilities can vary depending on the finances of the township, they are usually clean – much cleaner than the larger petrol stations or aforesaid fast food franchises. As a bonus, small towns have yummy bakeries and cafes to try out.
If I am in no rush, I have been known to pick a rest point based on whether they have a public pool, like Longreach, during the summer. Keeping to a schedule though, there are some lovely picturesque parks and playgrounds to stop at, stretch your legs get fresh air and allow the kids to burn off some energy. Don't forget to keep Fido on a leash and take plastic bags to clean up after. I have found that more are offering fenced playgrounds and dog parks than ever before.
Fighting in the Car
Fights are a distraction you can't afford when travelling at high speed. On the rare occasion that long periods in the confined spaces of a car have gotten the better of my kids, my method of dealing with it is to turn the music up loud. Really loud. Even louder if they keep going. Someone inevitably cracks and asks me to turn the music down. "Oh, you don't want to sing along to this with me? The noise is bothering you? That's okay, I can turn it down now that everyone is quiet".
Kids fighting is a good sign that they really need a break from the car. Take an unscheduled break if required. Use some of that time to have a chat about how everyone is sharing the space so we need to be considerate of each other, especially as all of us sometimes do things that we think are fine but may actually annoy other people.
Overnight Stays on Your Queensland Road Trip
I'm usually a bit of a "wing it" type of traveller and by about 2pm in the afternoon I have a good idea of where I will be stopping for the night and start making enquiries and bookings about places to stay during an afternoon rest stop. I have come unstuck a few times (did you know that Parkes in NSW holds a very well attended Elvis festival?) and had to drive on several hundred kilometres more than planned. I have also had to stay in a caravan as all other options were booked out – not desirable at the time as I was the sole adult with three very small children and one child needed the toilet at 11pm at night.
Booking days or weeks ahead can save you some stress. It pays to be mindful of local festivals and events (like the Woodford Folk Festival or Bundaberg Rum Festival) and the predominant industry in the area you are intending on visiting or passing through – not just the usual "peak periods" of school holidays. Occasionally there is not enough on-site or rental accommodation available for the local industry (in the mining sector as an example) and motels in outlying townships are used as over-flow accommodation.
Travelling with a dog can have its issues. Most places will not allow you to have a dog inside. Some establishments will not allow you to have your fur baby on the premises at all. Other places will allow you to keep your pet with your car, at the door, or have a specific holding yard. It is essential to call ahead and make enquiries and bookings if you are travelling with a pet.
My favourite overnight accommodation for road trips with kids in Queensland is the self-contained cabin in a caravan park. They usually have enough beds, are air-conditioned, most will allow you to keep a pet at the car or on the porch, and they often have a playground of some description (and maybe a pool if you are lucky) on site.
The journey is part of the holiday too
We tend to live hurrying from point A to B through the work and school week and the temptation can be to rush to your destination. When you hit the road, take the time to look around. Your children will store up those memories you create on the road. It could be a destination like the outback Queensland town of Winton with its dinosaurs. Or it could be something seen on the side of the road. I have vivid memories of a road trip to Uluru as a kid – we stopped on the side of the road, in the middle of nowhere, to get walk amongst the most amazing display of wildflowers that stretched further than I could see.
Get on the road and enjoy having your kids as a captive audience, they will be all grown up before you know it!