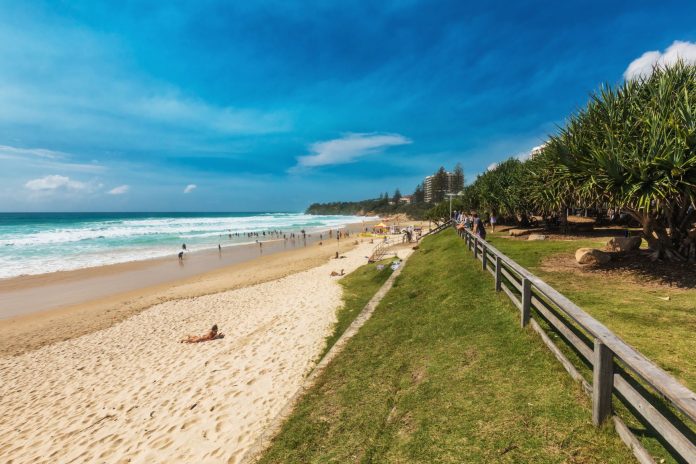 In a word? Beautiful. In three words? Beautiful, beautiful, beautiful. The Sunshine Coast truly is God's country and nowhere is that more apparent than in the 4573 postcode. Coolum, Coolum Beach, March Beach, Peregian Beach and surrounds have all of the conveniences yet none of the hassles. This is a gentle, reasonably populated area that makes the most of the gorgeous scenery, close access to the wonderful surf beaches and the relaxed air of beach side living. If you've been here for a holiday, chances are you've considered a move here.
Here's what makes this little slice of heaven so endlessly special.
The Brass Tacks – Coolum and Surrounds
The Coolum area is situated north of holiday hotspot Caloundra. It attracts its fair share of tourists but less so than the more heavily populated areas down south. This is an area that's long held a reputation for being peaceful and relaxing. The long lines of tourist cars, the over-powering high rises and the hustle and bustle of other coastal towns is not front of mind when it comes to this particular postcode.
Here you'll find, of course, beautiful beaches but also a thriving local economy. Surf shops, speciality stores, plenty of eateries, fine dining and relaxed, casual options make sure that residents and tourists alike are spoilt for choice when it comes to access to amenities. There's a nearby hospital, a number of good quality educational options and more hiking and adventuring options than you can poke a stick at. We TRULY recommend climbing Mount Coolum – an experience that's sure to leave you aghast at the natural beauty of the area.
So what do we need to know about investing in this region?
Coolum – A Postcode Spotlight
It's not out of your reach. The median purchase price of a home in this area levels out at around the $700,000 mark. Obviously, this will be dependant on the size, age and type of property that you purchase. Up into the hills you'll find sprawling family homes while, closer to the beach, smaller townhouses and apartments. When we said this was God's Country before we truly meant it. Making an investment in this particular area is a wise choice as there are always renters and owner-occupiers looking to grab a piece of the Coolum pie.
Look out to the Peregian region as you'll see a slight dip there in terms of costs if you're hesitant about outlaying too much as part of your initial investment.
Renters in the 4573 are typically paying about $520 per week which is, surprisingly, slightly higher than the Brisbane hub. Here you'll see the benefits of buying somewhat away from the rat race as people who are looking to put down roots in this particular area and make the most of the fantastic schooling and lifestyle options.
Owner-occupiers in this particular postcode and surrounding areas can take advantage of the pricing schema to enact renovations of their own in order to make their own properties more amenable to the market. There are a lot of older properties here in desperate need of a facelift so this creates a golden opportunity to get in, pay low and sell high all whilst doing so against the beautiful backdrop of the Sunshine Coast.
Is this truly a growth area?
Let's face it. If you're looking for coastal options close to Brisbane you've got the Sunshine Coast or the Gold Coast to choose from (for the main).
The Gold Coast is an area that has truly exploded over the last couple of decades. Incredible amounts of money have been sunk into developing this area and, with those investments, have come a bustling and growing population. Traffic concerns, high density living, overcrowding and pollution have all become part and parcel of living south of Brisbane.
The Sunshine Coast is a different beast. As we love ALL of Queensland we're definitely not going to position one area above another. However, it does need to be said that the Sunshine Coast has a much slower pace than it's southerly cousin. Life here is more still and peaceful. There is more of an attachment to the environment here, more chances to relax. Beaches are less crowded and more 'wild' somehow. You have close access to beautiful Noosa, pumping Mooloolabah and the family-friendly atmosphere of Caloundra and surrounding suburbs. There are a plethora of eating and shopping options that make this an accessible and friendly area to live in that's still somewhat connected to a slower, more peaceful way of life.
Can you tell that we love Coolum? It's definitely on our list for one of the best postcodes to invest in.
Considering a move? Talk to our property experts today for the best advice in the business!