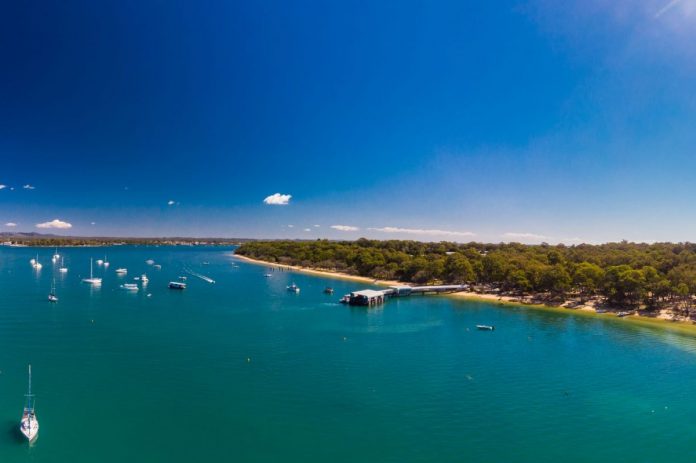 Fancy the island lifestyle with the convenience of city and mainland living within reach? Imagine knowing you could have sandy beaches on your doorstep, sleep to the sighing of waves, wake to a tropical paradise, and be only a short ferry ride to major shopping, theatres, cinemas, and train links to Brisbane's CBD. This article will show you how you can have all this on Brisbane's islands.
Postcode 4184
The postcode of 4184 covers the Southern Moreton Bay Islands on the Redlands Coast. A commutable sub-tropical island lifestyle awaits, sheltered between the mainland and North Stradbroke Island.
The Southern Moreton Bay Islands on the Redlands Coast are all linked to the mainland by passenger ferry and vehicle barge. There are five inhabited islands within postcode 4184, and several uninhabited islands. These are nature parks accessible to day trippers by watercraft.
Karragarra, Lamb, Russell, and Macleay Islands are all serviced by regular ferries that operate almost around the clock from Redland Bay, while Coochiemudlo Island can be accessed by ferry or barge from Victoria Point.
Who lives on Brisbane's Islands?
Across all islands the demographic is consistent. Brisbane's islands have a larger proportion of retirees than the Queensland average. The median age across the islands ranges from 55 to 59.
The islands also attract families drawn to the islands' low crime, lack of traffic, overall safety and sense of community.
Brisbane's islands lifestyle
Life on the islands offers the perfect balance of escape and connection. You are far enough away from suburbia to relax in your own peaceful haven, yet close enough to have all your social, work, and personal needs met. If you work from home, the views from your office window will be the envy of your friends and family!
Not all of the islands are populous enough to have schools, community facilities, or shops, but all offer a laid-back lifestyle that's hard to beat.
Mainland supermarkets provide a regular delivery service to the islands, so you needn't leave your paradise at all.
Whichever island you choose to call home, you can be as close as 10 minutes or as far as 35 minutes to the mainland by ferry. From the mainland ferry terminal, you are less than 40km from Brisbane's CBD.
Let's look at each inhabited island in a bit more detail.
Coochiemudlo Island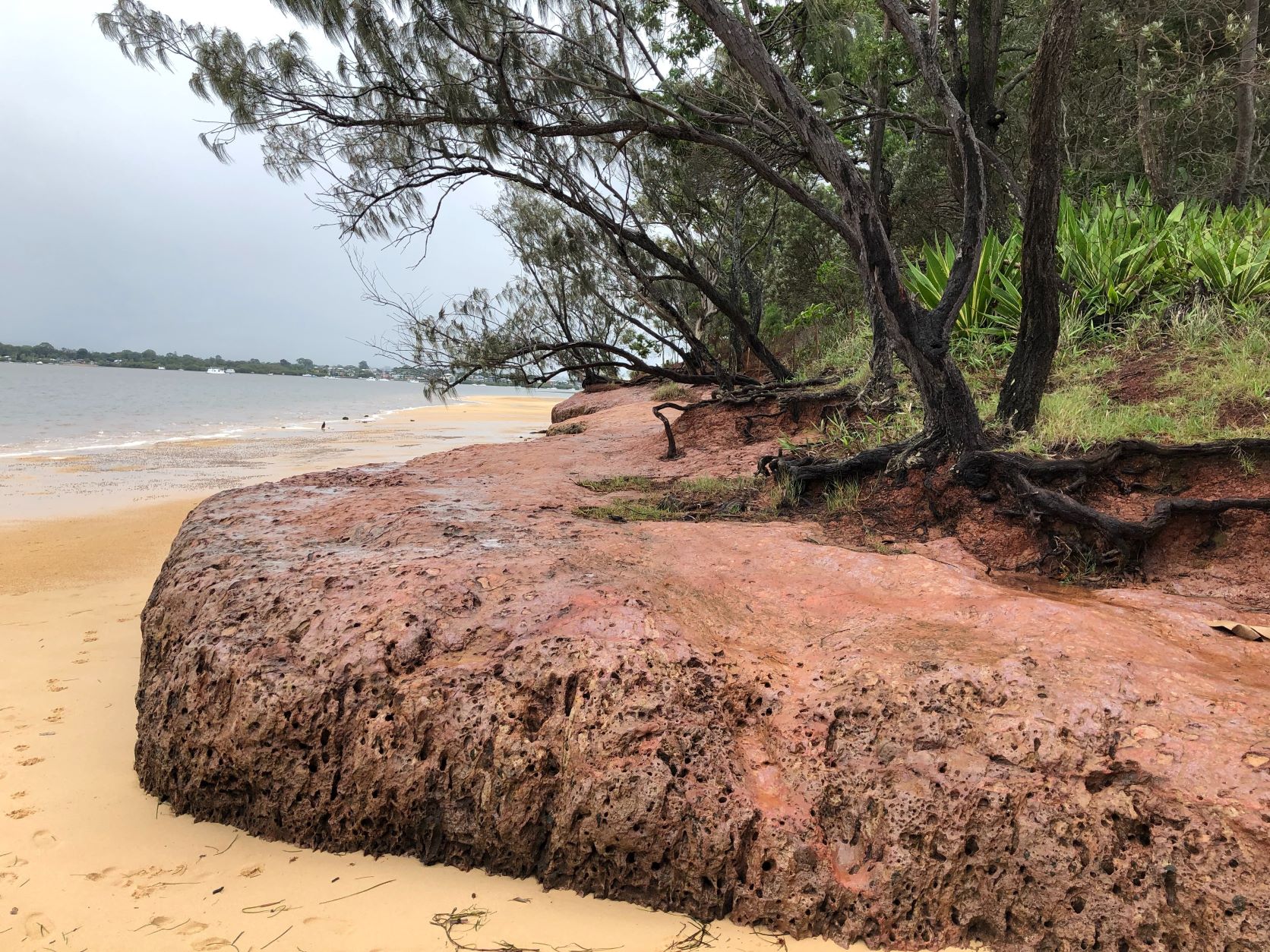 Coochiemudlo Island is just 10 minutes by passenger ferry from Victoria Point. The traditional place name, Goochie Mudlo, means Red Rock, and locals affectionately refer to it as Coochie.
It's just 5 square kilometres in size and predominantly residential. The jetty is on the sheltered mainland side where visitors swim, paddle, kayak, and play on Main Beach. A walk across the island to the northern Morwong Beach offers waves big enough for body boarding, whereas Norfolk Beach to the east is a peaceful sub-tropical paradise. There is a shop, take away, and resort on the island, and regular markets are held near Main Beach.
The introduction of town water, a regular ferry service, electricity, a car barge, sewerage, and internet since the 1970s led to a gradual increase of the island population. It was around 750 in nearly 600 dwellings at the 2016 Census.
Cars can be ferried onto the island, but everything is within walking distance of the passenger ferry, including the island's nine-hole golf course.
Every July, locals and residents re-enact the landing of Matthew Flinders, who stepped ashore Coochiemudlo Island in 1799. The day is celebrated with market stalls, a parade, and children's activities.
Coochiemudlo Island in brief:
5 square kilometres in size
10 minutes from the mainland
Serviced by car barge and passenger ferry
Three beaches
Watercraft for hire
Kiosk, café, and takeaway
Nine-hole golf course
Town water, electricity, sewerage, NBN internet, and waste collection
Wildlife and wetlands
Special markets on Main Beach five times each year
No school or medical services
Coochiemudlo Island real estate
Real estate on Coochiemudlo Island is a mix of modern and traditional low-maintenance homes on good-sized blocks. Recent sales (mid 2022) average around $500,000. Rentals average $350 per week at the time of writing.
Karragarra Island
At only 2km long by 500m wide, almost every home on Karragarra Island is guaranteed a sea view.
Around 400 residents call Karragarra Island home. Karragarra Island has a real community feel and offers a true escape from the daily grind of urban living.
Karragarra Island in brief:
The smallest of the inhabited Redlands Coast islands
Population 204 in 2016
15 minutes from the mainland
Serviced by car barge and passenger ferry
Town water, electricity, sewerage, NBN internet, and waste collection
Recreational club and small shop
Public tennis court
Playground
Community Garden
Picnic spots and free barbecues
Free inter-island ferry to Macleay Island and Russell Island
Beach and netted swimming area
No school or medical facilities
Karragarra Island properties
Real estate on Karragarra Island varies from tiny off-grid holiday cabins to luxury modern resort-style homes. Property prices vary from high $200ks to around $800k. Rentals average $350 per week.
Lamb Island
A beautiful place for a relaxed lifestyle, Lamb Island is a true retreat. It's small, but easily accessible from the mainland. A little Southern Moreton Bay Island bus service takes you from the ferry terminal around the island, although everything is in walking distance if you prefer to stroll.
Lamb Island in brief:
2 square kilometres
Population 432 at 2016 census
23 minutes by ferry from the mainland
Serviced by car barge and passenger ferry
Town water, electricity, sewerage, NBN internet, and waste collection
Convenience store
Island bus
Rural fire brigade
Parks and playgrounds
Recreation Club with tennis court
No school or medical facilities
Real estate on Lamb Island
You can get your holiday hideaway or forever home on Lamb Island for under $400,000, with homes on quarter-acre oceanside blocks for under $700,000. Rentals average $350 per week.
Russell Island
Russell Island – Canaipa – is the largest of the Southern Moreton Bay Islands and closest to Stradbroke Island. It's a well-equipped island where you can truly leave mainland living behind. It is one of only two of the southern Brisbane islands to have its own primary school.
Russell Island in brief:
2 square kilometres
30 minutes by ferry from the mainland
Serviced by car barge and passenger ferry
Population 2836 at the 2016 census
Town water, electricity, sewerage, NBN internet, and waste collection
Primary school
Public swimming pool aquatic centre
RSL and Bowls Club
Supermarket and specialist stores
Bistro
Cafes
Public Library
Medical Centre
Community Centre
Petrol Station
Church
Public parks. Sports oval, and playgrounds
Real estate on Russell Island
Russell Island has some big blocks with rural lifestyle homes on acreage with grazing. Houses on a modest 700m2 block are currently selling at a little over $500k, with lifestyle homes and larger luxury homes achieving over $1 million. Rental properties achieve between $300 and $600 per week.
Macleay Island and Perulpa
Macleay Island is the most densely populated of Brisbane's islands in postcode 4184. The tiny island of Perulpa is connected to Macleay Island via a causeway that is vehicle accessible. The islands are very well serviced with everything you need for day-to-day comfort.
Macleay Island and Perulpa in brief:
4 square kilometres
Populations 2681 at 2016 census
15 minutes by ferry from Redland Bay
Serviced by car barge and passenger ferry
Town water, electricity, sewerage, NBN internet, and waste collection
Primary school with sports oval
Childcare and Early Learning centre
Golf course
Bowling club
Community Centre
Library
Pub
Ambulance, fire service, SES, and police station
Medical centre and pharmacy
Supermarket, shops, Post Office, and specialty stores
Cafés and takeaways
Beaches, parks, playgrounds, skatepark
Vet
Macleay Island real estate
Like the other islands, property is a mix of older getaways ripe for renovation, and luxury homes on large blocks. Prices mid-2022 range from high $200,000s to $800,000. Rental properties range from $400 to $450 per week.
Is there a downside to island life?
While the island lifestyle is a dream to many, there are a few considerations to bear in mind:
The nearest hospital is in Cleveland. If there is an emergency requiring hospital attention, your journey may have to be by boat or helicopter.
Property repairs and maintenance may be more expensive as tradies must bring materials and equipment over by vehicle ferry. That being said, many tradies live and work on the islands.
The ferry operates around 18 hours per day, from before dawn until late in the evening. In adverse weather conditions, ferries may be forced to cancel their services.
Ready to move to Brisbane's Islands?
Each island offers something different. Russell and Macleay are their own modern suburbs while Karragarra, Lamb, and Coochiemudlo are more of a retreat.
A free inter-island ferry operates daily for island hopping exploration. Many residents choose to live on one island, and hop over to another for recreation and dining.
The islands are close enough to the mainland to scope out on a day trip, but to really get a feel for island life, enjoy a stay at the various holiday and overnight accommodations each island offers. If your dream home is not on the market, there are many fantastic blocks of land available on each island for you to create your own paradise.